We just migrated our email over to Microsoft Online (hosted Exchange). Trying to reconfigure notifications but the test email is not going out.
Our previous email provider used an unsecure SMTP at port 25. Microsoft Online uses TLS/SSL at port 587.
We are using:
Server: smtp.mail.microsoftonline.com
Port: 587
Use SSL: checked
From: (our email address)
Reply To: (our email address)
Server Requires Authentication: checked
Username: (our email address)
Password: (our password)
These settings work fine in Outlook 2007 and Outlook Express, but a test through Backup4all gives the following error:
Invalid token:
scRet: 80090308
Here is a screenshot of the actual error dialog: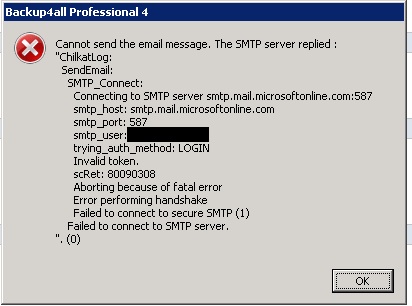 Any help would be greatly appreciated!