Posts: 63
Joined: Wed Dec 16, 2009 10:48 am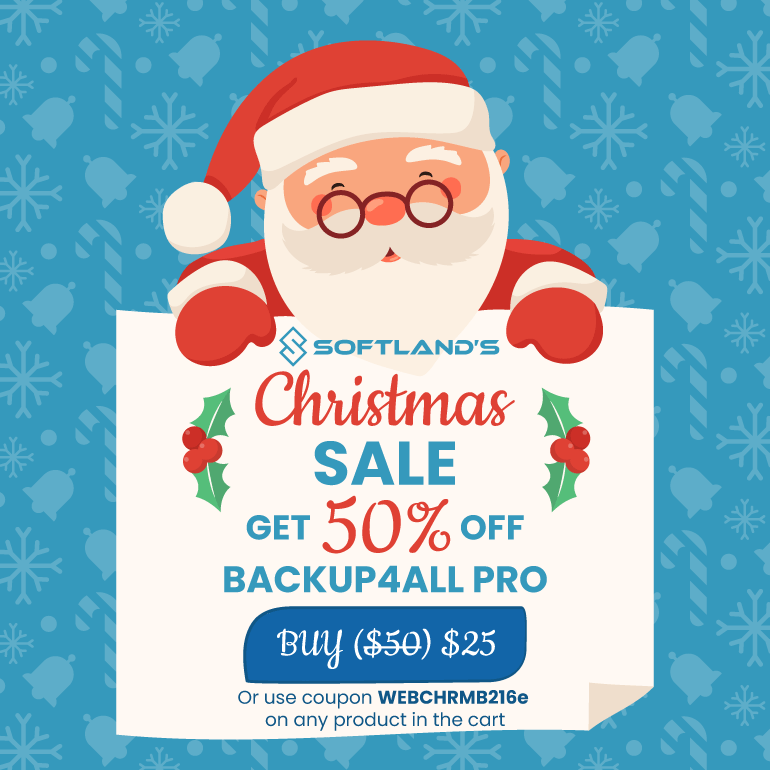 Starting today we run a special Christmas promotion for Backup4all users, where you will receive a 50% discount for any orders placed until January 3rd, 2022. To receive the discount simply use the following coupon code on the checkout page: WEBCHRMB216e
BACKUP4ALL PROFESSIONAL - 50% DISCOUNT
Instead of the full price of US$ 49.99
you pay only US$ 25* per license
. Here's how you can buy Backup4all Professional with the 50% discount:
Click on the following link to buy a Backup4all Professional license: Backup4all Professional (50% off)
The discount will be applied automatically, all you have to do is enter your billing details and pay to finalize the order
* VAT/Sales Tax might be added
BACKUP4ALL MONITOR - 50% DISCOUNT
You pay
US$ 2.5* per license
instead of the full price of US$ 4.99 per license
. Backup4all Monitor is an add-on product that helps you remotely monitor your FBackup or Backup4all backups. Here's how you can order Backup4all Monitor with a 50% discount:
* VAT/Sales Tax might be added
Details regarding this special Christmas promotion:
Promotion is valid until January 3rd, 2022 - orders after that date will have the full price so HURRY before you miss this deal
Be sure to share this deal with friends, they'll appreciate the tip if they're looking for an excellent data backup software.
---